The art mill celebrates life!
In addition to dancing, playing music, painting and finding silence, the art mill can be used for Lebensfeste, Hochzeiten, Trainings, lectures, theatrical performances or holiday projects  rented werden. Das ganze Haus kann zum Beispiel als Hochzeitshaus, so wie es im späten Mittelalter und Anfang der Neuzeit üblich war, genutzt werden.
In der Kunstmühle weht seit 1884 ein unermüdlicher Pioniergeist. Traditionen werden  untraditionell weitergegeben und erhalten.
Dafür stehen ein 200qm großer Saal mit Eichenholz-Schwingboden, ein Klavier aus den 30iger Jahren, eine Bar, eine anliegende Gemeinschaftsküche und ein Buffet-Café Raum, sanitäre Räume, sowie ein flexibler Wohn-Schlaf-Bereich und 11 Gästezimmer für die Durchführung neuer Pionierprojekte und Ideen bereit.
A covered in the summer to the meadow carriage hall or the remise, ein helles Atelier, können je nach Wunsch einbezogen werden.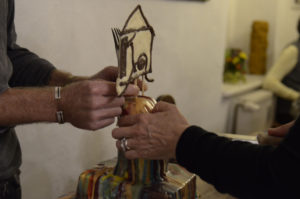 Impressionen 2018 | Impressions