Alternative oasis: 30 minutes by car from Braunschweig at Wernigerode! Romantic estate at the  VIA ROMEA There is space for weddings, confirmations, birthdays, small and large celebrations. Seminars and workshops thrive in the inspiring ambiance an old one watermill..
Relax in the picturesque prairie and do what they always wanted to do or try out. At the Kunstmühle you can take advantage of a social program and pursue your individual inclinations:
To paint, Drawing, drumming, dancing, making music, fasting or experiencing peace by doing nothing ... Choose between Self-sufficiency in the spacious country kitchen or a varied catering service from our house. Your resin HikingYou can start cycling tours and rides from here.
The rustic and cozy property is located  in the center and is acoustically well protected. The coach house, the artists' studio in the coach house, halls, guest rooms, courtyard and meadow can be rented privately or publicly in a large or familial group. The property offers  about 120 people Place for weddings, anniversaries, birthday parties, company parties, unique moments, seminars, receptions, performances, concerts, readings, etc. in an affordable setting!
In the immediate vicinity are the church, Chapel, registry office, Meadows, streams and parking, The nearest train station in Ilsenburg is 6 km away.
All rooms have the flair of liveliness associated with art.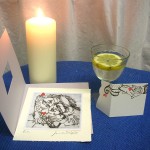 Design of a celebration with an artistic touch
Invitation card individually in offset printing or as a signed original of a drypoint etching
place cards
menu card
Wedding paintings
Children's painting school during the celebrations
Taster course Tango for young and old can be booked as an amusing contribution to a suitable festivity
Catering service of your choice
8 holiday guest rooms in the art mill
Description of the premises:
mill hall:
Room size 170 sqm, high-quality oak wood floor, ground floor, two entrances, piano, bar, light and sound system, seating for a maximum of 120 seats, wood stove heating
Carriage Room:
from May to the yard open 85 square meters large room, danceable wooden floor, large sideboard for buffet
remise: a 75 sqm studio, for lectures, children's birthday parties, smaller events or similar Wood stove heating
Input range:
a 45 sqm large open space for the reception or the buffet in the warm season
9 guest rooms:
3 x ca. 25 qm2 große Zimmer mit jeweils 1 Einzel- und 1 Doppelbett / 2 Gemeinschaftsduschen + Toiletten
4 Doppelzimmer mit integrierter Toilette/Dusche
1 bridal suite: 25 qm2 groß, Dusche/Toilette
1 single room
Im Mühlenschlafsaal gibt es 12 Betten  und 1 Doppelbett.
Die Preise zu den Zimmern und dem Schlafsaal finden Sie unter dem Punkt Beherbergung.
Müllerstube:
a variably usable space, 75 qm2, z, B. as a café - buffet - lounge or meditation room usable with small lockable transitional space to the kitchen, natural gas heating
Kitchen:
spacious 35 sqm area with commercial dishwasher, 2 electric cookers, refrigerators, kitchen appliances, crockery / cutlery / glasses, natural gas heating
Sanitary rooms: 2 guest toilets on the ground floor and 1 shower 2 showers + toilets
Further premises will be created ... current photos in short.
Nächste Events | Next events